---
Architectural
Commissions
---
Collaborative Projects
---
Lighting
Furniture
Sushi Plates
Squareware
Sculpture
Links
Classes
Home
---
Send me E-mail
Art Glass Design and
Fabrication Facility
Since 1971
Today The Bert Weiss Glass Studio produces fused/slumped glass as large as 38" x 80" (roughly door sized) Some glass can be tempered for use as furniture, windows or doors.
Many techniques for decorating glass are used, including fusing, painting, embossing, bending, frosting, carving, gilding and more.

Bert's work is featured at
Bellini's Ristorante
North Conway NH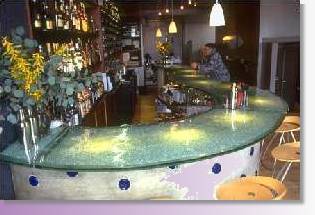 25 ft Serpentine Glass Bar for Una, a Winebar in Portland ME.
The Bartop is created in five sections. It is made of 2 layers of half inch thick glass, sandwiching a layer of crushed glass. The glass is kiln fused and the edges are ground and polished. The bartop sits on an 8 inch thick cement wall with cobalt blue wine bottles embedded in cement.